A Money-Saving and Simple Way to Recycle Your Mini Whiteboards and Accessories
As part of Eastpoint's commitment to helping our planet, we are always looking at ways in which we can improve our products and services to our customers.
We are really chuffed to have launched the "send-back" recycling scheme for all mini whiteboards*, whiteboard pens and whiteboard erasers
We have teamed up with a local recycling centre, Precious Plastic East, who recently turned our first batch of returned whiteboard pens into recycled buttons. Check out the images below to see what they look like!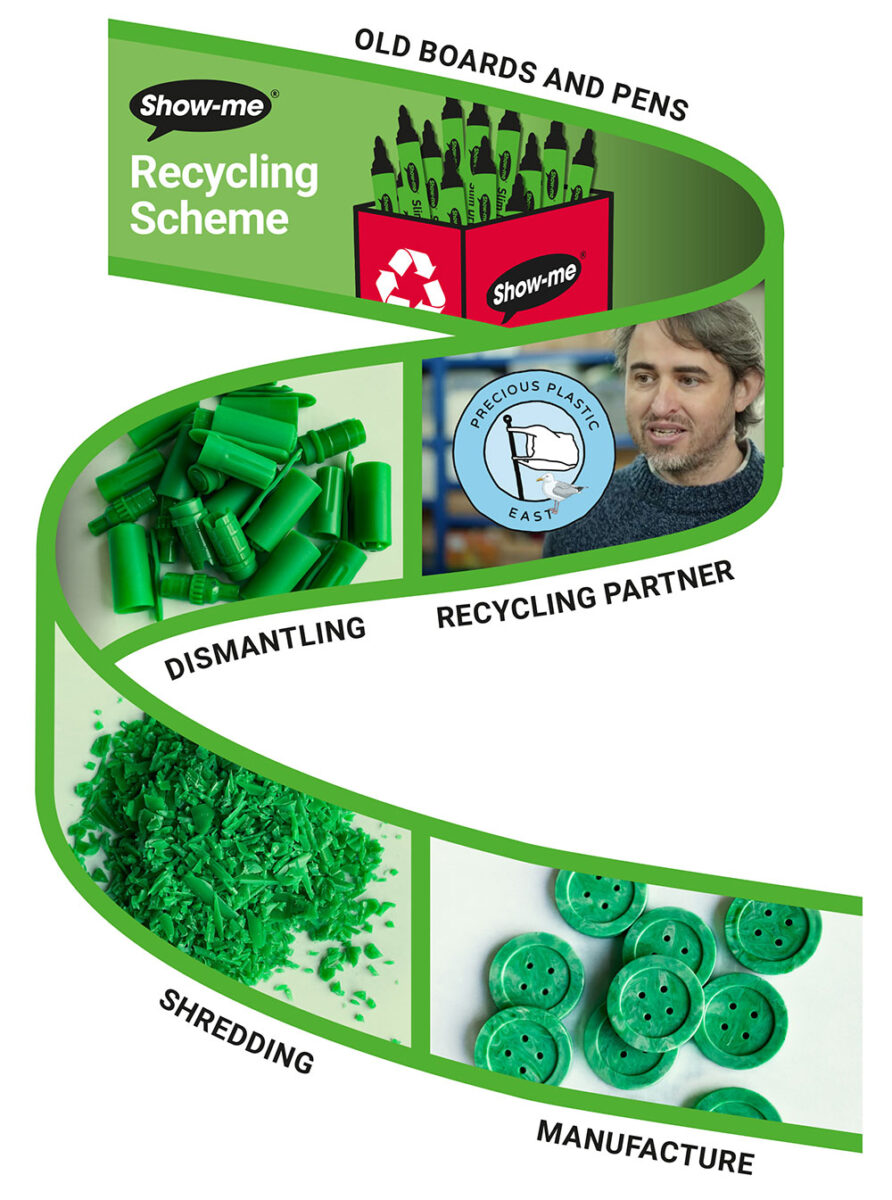 To take part, fill in the required information below and we will then organise collection. We need a few details about the school and about the box as this helps us to ensure that we send the right courier.
We will then supply you with a returns label ready for collection.
The scheme is as simple as: Collect, Seal, Confirm, Send, Share
Collect: Once you have decided to join the scheme, place suitable boxes** in and around your classroom or office and download the poster to display with your boxes.
Seal: Once each box is full and below the required maximum limit, seal the box using parcel tape so all the items are securely contained.
Confirm: Fill in the required details below.
Send: We will send you a returns label that needs to be attached to the box. The box then needs to be placed in a suitable location, typically reception, ready for collection.
Share: Is your school on social media? If so, it's great to share the steps you're taking to reduce your environmental impact. Use the hashtag #showmerecycling to share your involvement in the scheme.
Please take the time to fill in the form below. Make sure you download and share your certificate and social media content pack for your school promoting your recycling efforts!
Terms and Conditions
The recycling scheme is open to all mainland UK.
The scheme is being launched on a trial basis and is subject to change without warning. Eastpoint reserve the right to cancel the scheme.
To participate in the scheme, you agree to share your details with us to enable us to assist you in collecting the box and for occasional marketing purposes of relevant services and products.
*Mini whiteboards are classified as A3 or smaller.
**Suitable boxes are double-walled cardboard boxes that are free from water damage and have up to a maximum weight of 16KG per box. The customer will be required to use a box that is suitable for the weight of the recycling and is suitably sealed, so that even the smallest parts (pen lids/ caps) are unable to fall out. Eastpoint will not be able to provide a box for the returns. If the customer has purchased a Show-me classpack or bulk box the outer transit cases (the brown box the product was shipped in) can be used for the returns process. All boxes should be free from additional items than those listed and may be subject to fees if the boxes are found to contain contaminants.